We are holding fantastic filmmaking Masterclasses for 15-18 year olds planning to enter this year's Cinesnaps Short Film Competition. If you are an aspiring filmmaker, keen YouTuber, or passionate Vlogger, get on board!
(And if you are a media teacher, this will be super handy for you as well – upskilling, improving entries . . . )
Busselton Tuesday, 12 March
Bunbury, Wednesday, 13 March
Why?
Because entering your film could result in you being one of seven finalists who have their film premiere at a special red carpet event as part of CinefestOZ in August. This event is BIG and attended by some of the best-know names in Australian filmmaking and acting.
Because the experienced and awesome filmmaker Jodie Bell will be leading the charge, along with cameraman Vincent Carter. You will learn heaps, have some fun and get some great direction.
And because you only have until 28 June to enter the Short Film comp' and this will really help you on you way.
Time is ticking . . . this year's theme is The Watch . . .
Interested?
Students, teachers, anyone 15-18 years old and living in the South West, take a look at the information here, or get in touch with Gabrielle [email protected]
Cinesnaps Masterclass Booking Form
Cinesnaps Short Film Competition Registration of Interest
Cinesnaps Short Film Competition Entry Pack
More about your presenters

Jodie Bell, Producer
Jodie is a First Nations descendant of Butchella and Jagera people of Southeast Queensland. Jodie has been with Goolarri Media and its Production company, Ramu Productions, a community-owned Indigenous media company, since early 2008 and has produced a number of productions including short films Telling Our Story, In the Air, the WASA nominated Maap Mordak, the Award winning short documentaries Naji, and Marrimarrigun as well as the well-received documentary series, Characters of Broome and the Riiiji Carver for NITV and was Co-producer on the CinefestOZ 2015 film of the year, feature documentary Putuparri and the Rainmakers. Jodie is currently in post-production on a number of projects including another short drama Doug, the Human and a social impact documentary Saving Seagrass, and has a number of projects in development including two feature films Dingo and Joonba and a longer form documentary project, Our Home, Our Station, Our Life.
Vincent Carter, Camera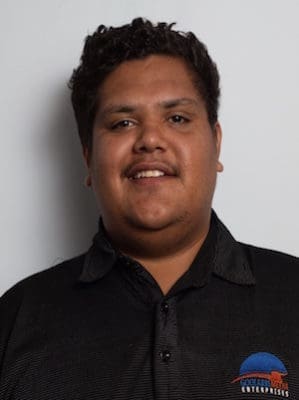 Vince Carter is a descendant of the Gooniyandi and Kija people of the Central Kimberley and Butchella and Jagera people from the South east Queensland. Vince graduated from Scotch College in Perth in 2014 and then took a gap year to travel to China for 10 months, teaching English as a second language to university students.  He came back to Australia in 2016 and started working with Goolarri Media Enterprises as a Cameraman. In 2018, Vince took 6 months off to attend the Australian Film, Television and Radio School (AFTRS) completing a Diploma in Camera. In 2017 and 2018 he participated in the AFTRS-sponsored WA and National talent camps, which provided him with the opportunity to pitch and work on his own stories. Vince has worked in the camera department on a number of short documentaries and films including in the award winning Short documentary Marrimarrigun, the up and coming short drama Doug, the Human and documentary Saving Seagrass. He has shot a number of television commercials for Goolarri Media. In December 2017 he was a camera attachment on the TV Series Mystery Road and Black Comedy. He has a passion for filmmaking and would like to eventually move into directing his own stories.
Proudly supported by Premium and Community Partner Rio Tinto.