H is for Happiness wins CinefestOZ $100,000 Film Prize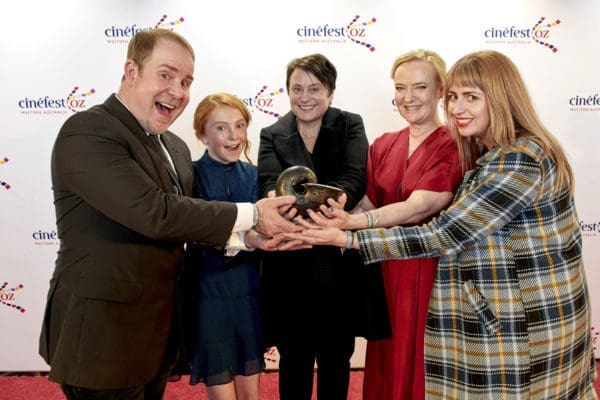 CinefestOZ Film Festival has announced MIFF@CinefestOZ film H is for Happiness as this year's winner of the highly coveted $100,000 Film Prize.
H is for Happiness, directed by John Sheedy and produced by Julie Ryan, Tenille Kennedy and Lisa Hoppe, was awarded Australia's greatest film prize during a star-studded ceremony tonight at Australia's premier destination film festival.
Sheedy, Ryan, Kennedy and Hoppe were presented with the award this evening by the Hon David Templeman, Minister for Culture and the Arts, as part of CinefestOZ's dazzling Gala Night celebrations in Busselton, in Australia's South West. 
"It's a real honour to be here tonight to accept the Film Prize on behalf of the H is for Happiness team," Kennedy said. "It was such a treat to screen to our hometown audience this morning." 
"I'd like to thank ScreenWest, Lotterywest, WA Regional Film Fund, MIFF Premiere Fund, Screen Australia, Film Victoria, Universal and LevelK."
Sheedy added: "This is incredible. It's such a prestigious prize. The competition was so tough. There were five amazing films, I saw all of them. To be chosen in such good company is wonderful and to be here at CinefestOZ it's amazing."
Set in the Australian coastal town of Albany, MIFF@CinefestOZ film H is for Happiness is supported by the Melbourne International Film Festival (MIFF) Premiere Fund. It is a classic feel-good film based on the award-winning book My Life as an Alphabet by Barry Jonsberg, a heart-warming, unflinchingly honest story of one twelve- year-old's determination to bring her family back from the brink and spark happiness in their lives. Using an entirely unique approach, Candice Phee is an unforgettable heroine whose exploits will inspire and delight anyone who has faced the trials of adolescence and the heartbreak of family tragedy.
Directed by MIFF Accelerator Lab alumnus Sheedy, written by Hoppe and starring newcomers Daisy Axon and Wesley Patten, alongside Miriam Margolyes, Richard Roxburgh, Emma Booth, Joel Jackson, Deborah Mailman – and a miniature horse – H is For Happiness shows us a quintessentially Australian world through the eyes of a quirky outsider, and is a joyous celebration of all things a little bit different.
MIFF@CinefestOZ film H is for Happiness was selected from fellow finalists GO!, Hearts and Bones, Judy & Punch and MIFF@CinefestOZ drama Measure for Measure.
The CinefestOZ Film Prize is awarded each year to an Australian feature film for excellence in filmmaking. Previous winners of the award include Jirga (2018), Ali's Wedding (2017), Girl Asleep (2016), Putuparri and the Rainmakers (2015) and Paper Planes (2014).
The Hon Paul Papalia, Minister for Tourism, said the State Government, through Tourism WA's Regional Events Program, was proud to sponsor CinefestOZ, including the nation's richest film prize.
"I would like to congratulate the winner of the CinefestOZ Film Prize and acknowledge all the talented finalists," he said. "This event is a great showcase of Australian film content and the beautiful South West of WA, which along with Margaret River, was recently named by Lonely Planet as the number one Asian-Pacific Destination to visit.
"Tourism WA's Regional Events Program, though which CinefestOZ is supported, sponsors a range of sporting, cultural arts and culinary events throughout WA. These events not only help make our regions exciting and vibrant places to live, they play a crucial role in attracting more visitors to regional WA, helping to support local tourism operators and businesses, while boosting jobs and the local economy."
The Film Prize winner was decided by a jury of five esteemed members of the film industry including Marta Dusseldorp, Glenn Gainor, Alex Dimitriadesand Ben Young, led by Jury Chair Rachel Ward. The jury watched each of the Film Prize finalists with an audience at CinefestOZ before coming together to deliberate and determine the winner.
Speaking on behalf of the Jury, Ward said, "If we have the power as jurors to change the world to be a better place, then voting for H is for Happiness to win the CinefestOZ 2019 is our contribution. As juror Alex Dimitriades added, H is also for Hope."
Chair of CinefestOZ Helen Shervington said,"It has been another outstanding year for Australian film as is evident with this year's line-up of Film Prize finalists. We thank the jury for bringing such enormous depth and breadth of experience to the festival and for working together with such professionalism to decide on a winner."    
Kelton Pell was also recognised for his outstanding contribution to the Australian film industry and named the CinefestOZ 2019 Screen Legend. Pell has built a reputation for being one of our finest Australian actors and his work was the subject of a Retrospective as part of the festival's Indigenous program in 2015.
The West Australian has enjoyed an illustrious theatre career for more than 30 years, performing for The Playhouse Theatre Company, The Australian Elizabethan Theatre Trust under Wendy Blacklock, the Yirra Yaakin Noongar Theatre, Black Swan Theatre Company and Belvoir Street Theatre.
Pell is also a familiar face on television, starring in Bush Patrol and the SBS series, The Circuit, a legal drama set in the Kimberley, Redfern Now and The Heights, while his film credits include Blackfellas, Australian Rules, September, Bran Nue Dae, Mad Bastards, Looking For Grace, Red Dog: True Blue, Nobody's Child (Short), Three Summers and The Xrossing. He is also set to star in the upcoming movie Buckley's Chance, starring Bill Nighy.
Pell joins a formidable line up of past recipients of the award who include Sigrid Thornton, Hugo Weaving, Joel Edgerton, Jack Thompson, Bryan Brown, David Wenham, Jacqueline McKenzie, filmmakers Fred Schepisi, Bruce Beresford, Gillian Armstrong and Scott Hicks.
CinefestOZ Film Festival wraps tomorrow (Sunday 1 September) having delivered more than 150 film screening events in Western Australia's South West, including 15 world, 11 Australian and 53 WA premieres. An industry program incorporating the nation's peak film industry bodies was a key part of the festival offering.
CinefestOZ is supported by the State Government through Tourism WA's Regional Events Program. Rio Tinto is a proud Premium Partner of CinefestOZ. The festival acknowledges its strong partnership with Screenwest, Western Australia's screen funding and development agency.