Eight talented students from the South West region marked the start of their film career last night when they snagged the two top spots in CinefestOZ's 2021 Cinesnaps Short Film Competition with films created on this year's theme of "Treasure".
Cape Naturaliste College students Aiden Gillett and Jake Holland – with their short film Treasure Heist (year 10 to 12 category) – and Harvey Senior High students Jorja Plant, Chloe Basten, Brooklyn Kiddie, Ty Guretti, Liam Thomas and Neve Mullinger – with their short film Treasure (year 7 to 9 category) – emerged triumphant after screening their work an enthusiastic audience including distinguished industry professionals at The Esplanade in Busselton.
The red-carpet event showcased a total of eight films by young creatives from the South West and Great Southern regions in two categories.
Runner-up for the year 7-9 and 10-12 categories respectively was Cape Naturaliste College students Jordyn Brown and Kaila Byrne – with their film My Treasure – and Great Southern Grammar student Josh Clark – with his film One Man's Trash.
Australian actor Joel Jackson chaired the Cinesnaps Jury this year, alongside producer Cody Greenwood and videographer Jaimen Hudson, and said he was humbled to be part of the program.
"Cinesnaps is probably the only youth competition at a major film festival in Australia and that recognition goes a very long way in giving these kids the ambition and dedication they need for taking the next steps in their career," he said.
"Regardless of the outcome, each of the stories told by these kids is important. Each of their  stories matter and what they are doing is telling a part of their community and that's fantastic."
Mr Jackson said he was excited to see what next year's festival would bring as students and teachers continue to raise the bar.
"With the studios that are coming to Fremantle and Perth, and making West Australia a massive hub for storytelling in the State and indeed the Country, these kids are going to be the crew, the starting fledglings that bring those stories to life," he said.
A parent/teacher award was also awarded to Bunbury Cathedral Grammar School's media teacher Glen Strindberg for his support and expertise in helping bring student films to life.
Other grand finalists in the competition included:
St Mary Mackillop College's Ella Demarchi – Sincerely H (year 10-12).
 Great Southern Grammar's Henry Baker and Edward Baker – Pillow Dude and
the unexpected weird attack of Mr Bellybutton Fluff (year 10-12).
Bunbury Cathedral Grammar School's Julia Spencer and Darcy Eagles –The
Meaning of Treasure (year 10-12).
Great Southern Grammar's Mia Swanepoel – The Treasure of Courage (year
10-12).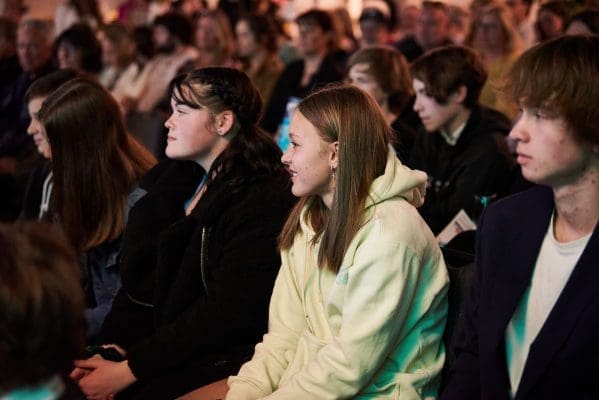 Cinesnaps Schools Program is strongly supported by CinefestOZ community partner Rio Tinto and general manager of operations, Greater Hope Downs, Jane Macey said she was delighted to be able to participate in the community event.
"I was so amazed at the creativity, technical work, and the bravery these students had in making their films," she said.
"It's important to provide learning and development opportunities for young people in regional communities, and to give them digital skills that will equip them to be successful not just in life generally but skills that are transferable into the mining industry."
CinefestOZ chief executive officer Malinda Nixon was thrilled to see such a high level of film talent across the two regions and congratulated the award winners on their achievement.
CinefestOZ would like to acknowledge the traditional owners of this land we live and work on and pay our respect to the Elders past, present and future.
CinefestOZ thanks Presenting Partner Tourism WA, Premium Partners Screenwest and City of
Busselton and Community Partner Rio Tinto. The festival acknowledges its strong support from
Lotterywest and Screen Australia.