CinefestOZ has curated a suggested itinerary to help you get the most out of 2022's film festival Friday 26 – Sunday 28 August 2022
The 15th annual CinefestOZ Film Festival is a six-day festival celebrating everything there is to love about Australian film showcasing an exciting line-up of new films and cultural events set against the incredible backdrop of Western Australia's South West region including Bunbury.
The team at CinefestOZ has planned a weekend get away with tips on where to eat and what to do to maximise your CinefestOZ stay in Bunbury.
FRIDAY 26th AUGUST
Quick stop for lunch and supplies
Drive to Bunbury and stop off at Bunbury Farmers Market for coffee, casual lunch, some fresh food supplies and snacks for the weekend.
After lunch Cultural Tour
Join a Ngalang Wongi cultural tour and you'll see the Bunbury Geographe region through the eyes of Troy Bennell, a Noongar man of the Wardandi-Bibbulmun group. Troy will guide you on a visit to the Collie River and Bunbury Estuary to learn about the plentiful source of bushfood and traditional medicines and many Dreaming stories. Learn how to make weaving twine from river bull rushes, bush mercurochrome from tree sap and how to locate traditional bush foods.
For an extended tour, Troy will guide you to Roelands Village, a farm once used as a Mission from 1940-1975 to house more than 600 children removed from families from across Western Australia. Today, the Village is a working farm producing bush tucker and a tourism destination with accommodation and corporate facilities. Bookings are essential; or call Troy 0457 360 517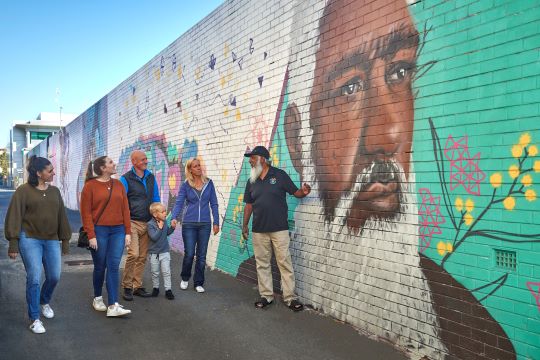 WA Premier Movie of 'Blaze'
At 6pm join CinefestOZ at Grand Cinemas to walk the Red Carpet whilst mingling with friends and filmmakers alike before heading into the cinema to view the WA Premiere of visual masterpiece Blaze. An intense drama of a girl struggling to make sense of a shocking crime she witnessed, Blaze is brought to life by Director and renowned, two-time Archibald Prize winning artist Del Kathryn Barton, and is an ode to female courage and a celebration of the power of the imagination. A unique hybrid of VFX, live action, puppetry and animation this is a film not to be missed. Tickets available here.
Dinner and 'In Conversation' with 'Blaze' filmmaker at Market Eating House
Following the movie head to Market Eating House for an intimate and insightful in-conversation discussion about the film with the filmmakers. Market Eating House has been at the heart of fine dining, bringing Bunbury to the national stage and garnered glowing reviews from critics, making it the perfect place for an intimate in-conversation and supper. Tickets available here.
SATURDAY 27th AUGUST
Morning Exercise and Breakfast
If you're a cyclist, why not join the South West Cycle Club (SWCC ) for a cycling jaunt with the locals? Groups start from the Car park at the Entertainment Centre and finish for coffee at Melo Velo at 66 Victoria Street, they have bike hire if you didn't bring your own. OR stroll along Koombana Bay for a beach walk. Come early and you may see a dolphin – usually between 8am and 10am OR view native fauna at Big Swamp Walk (2km walk) located on Prince Philip Drive and next to the Bunbury Wildlife Park which is also a great place to get up close and personal with Sherman the wombat, quokkas, and hand feed kangaroos. Head up to the Lighthouse and walk up to the Marlston Hill Lookout which is one of the best locations to enjoy sweeping views of the City of Bunbury.
Head to Bennesse Bunbury for a buzzing breakfast with excellent service. It's very rare to find a bad review about this favourite eating spot. Here, the food philosophy is all about using local produce where possible, whether it's artisan toast, house made granola, waffles, avocado smash, or a potato rosti, right down to the farm fresh eggs. Bring your pooch along for a puppycino whilst having your morning coffee. There is even a section for the little ones to play in.
Free CinefestOZ Community Screenings
Head to Bunbury Museum & Heritage Centre for a series of FREE CinefestOZ Community Screenings curated to reflect the 2022 theme "Dig Deep". This year's array of films embodies the 'Dig Deep' theme with a variety of stories about Australians pulling together and finding joy through tough times. Three different films screen at 10am, 11am and 1pm.
And/Or
Join emerging scholar, Grace Slaven as she discusses the academic significance of Blaze Film Director, Del Kathryn Barton's paintings at the Bunbury Regional Art Gallery. This educational talk will examine readings on Australian Feminine Gothic Landscapes, the presence of ornamentation, and subsequent evocation of horror vacui (fear of empty space) within Barton's painting practice. This is a free event although registration is essential here.
Take a walk with an afternoon of Art, History and some Retail Therapy.
After the talk explore the Bunbury Regional Art Gallery (BRAG) for more inspiration from national touring exhibitions including contemporary and indigenous art. With six different gallery spaces, BRAG is able to present a wide range of exhibitions, ensuring there is always something for everyone to get excited about. Whilst in the precinct, take a self guided walking tour along the Bunbury Heritage Building Trail viewing Bunbury's iconic and favourite buildings or take a walk along one of Australia's largest regional walking urban Mural Art Trails.
Retail therapy is always an option along Victoria Street with is full of little boutique stores that are big on style. Try Sabotage, Life and Soul, Imogino, Shoobedoo, The Green Depot, Maker + Co Collective.
Drinks and Dinner at hipster and rave reviewed venues
Start your night with a wine in Mojo's street side sea container. It has one of the biggest wine lists in the region, including local Geographe wines, and museum wines from their cellar. Two young sommeliers, Jake Atkinson and Samuel Sauvetre (affectionately known as the Wog and the Frog) oversee the selection.
Then head to Small bar-come-restaurant, Yours or Mine serving incredible South American food with an eclectic wine list, craft beer and a knock-your-socks-off espresso martini. Devour pulled pork tacos, grilled marron with chimichurri. We recommend saying 'yes please' to the Feed Me menu option.
End your night at the ultimate hipster hang-out, Lost Bills – a tiny bar with a banging craft beer list, eclectic spirits, and some damn good wine or check out Froth Craft Brewery, Bunbury's newest venue.
OR
CinefestOZ Short Film, Vengbus @ Maker & Co 120mins
If you're up for more CinefestOZ movie magic then head to Maker & Co from 6pm for a short film set. You are also welcome to BYO food, so why not get something from one of Bunbury's many amazing eateries and bring it with you?

About Vengbus (120mins )
Celebrating all things queer, this set will take you on a fun, heartfelt and eye-opening journey with an incredible mix of dramas and documentaries, dusted with a sprinkle of comedy, centred around LGBTQIA+ stories.

Join filmmakers after the screening for a Q&A on their creative processes. Here is your chance to ask about the film industry and learn about the journey that goes into some of the short films nominated for categories in CinefestOZ's Short Film Awards.
Book ahead and get your tickets here.
SUNDAY 28th AUGUST
Experience a taste of Paris for breakfast at La Pause Miam, a Parisian café with Scandi style. Expect everything from Parisian croque monsieur, to duck burgers, bacon and eggs, and stacked pancakes. The pastries are baked fresh and melt in your mouth. Locals vote their coffee as the best in the city. La Pause Miam, 5/17 Prinsep St,
Dive into Dolphin Discovery
The Dolphin Discovery Centre couldn't be more highly recommended as a final stop for your weekend adventure. The fish-themed coral aquariums are bound to bring a smile to your faces and the impressive 360-degree Digital Dolphinarium at the Interpretive Centre is impressive. Learn about the history of Koombana Bay and its environment with interactive marine displays, activities, feeding programs and tours, all designed to create memorable experiences. Experience the Interaction Zone and get up close and personal with dolphins cruising along and coming to meet you.
If you're after something even more immersive, then jump on board the centre's 90min Dolphin Eco Cruise (weather permitting) and witness the wild dolphins in all their glory out in nature. Expert guides accompany you on this award-winning experience guaranteed to thrill your junior marine biologist.
Staying an Extra night?
CinefestOZ's Sunday afternoon and evening at Grand Cinemas has you covered with a 3pm screening of an adventure documentary "Splice Here: A Projected Odyssey' followed by an anthology feature film "We Are Still Here" at 6pm.